Adding Images to E-learning
CourseCo makes adding images easy to your eLearning course content. Add images easily to display throughout your course content slides and deliver user-friendly E-learning services to your learners. In just a few easy steps your course will be ready.
All of your images are stored in MEDIA in CourseCo. You can bulk import images to save time.
In this guide, see easy to use steps below;
Log In as an admin

In the left menu, go to the 'Media' Plugin

You will be redirected to this page as shown in the image below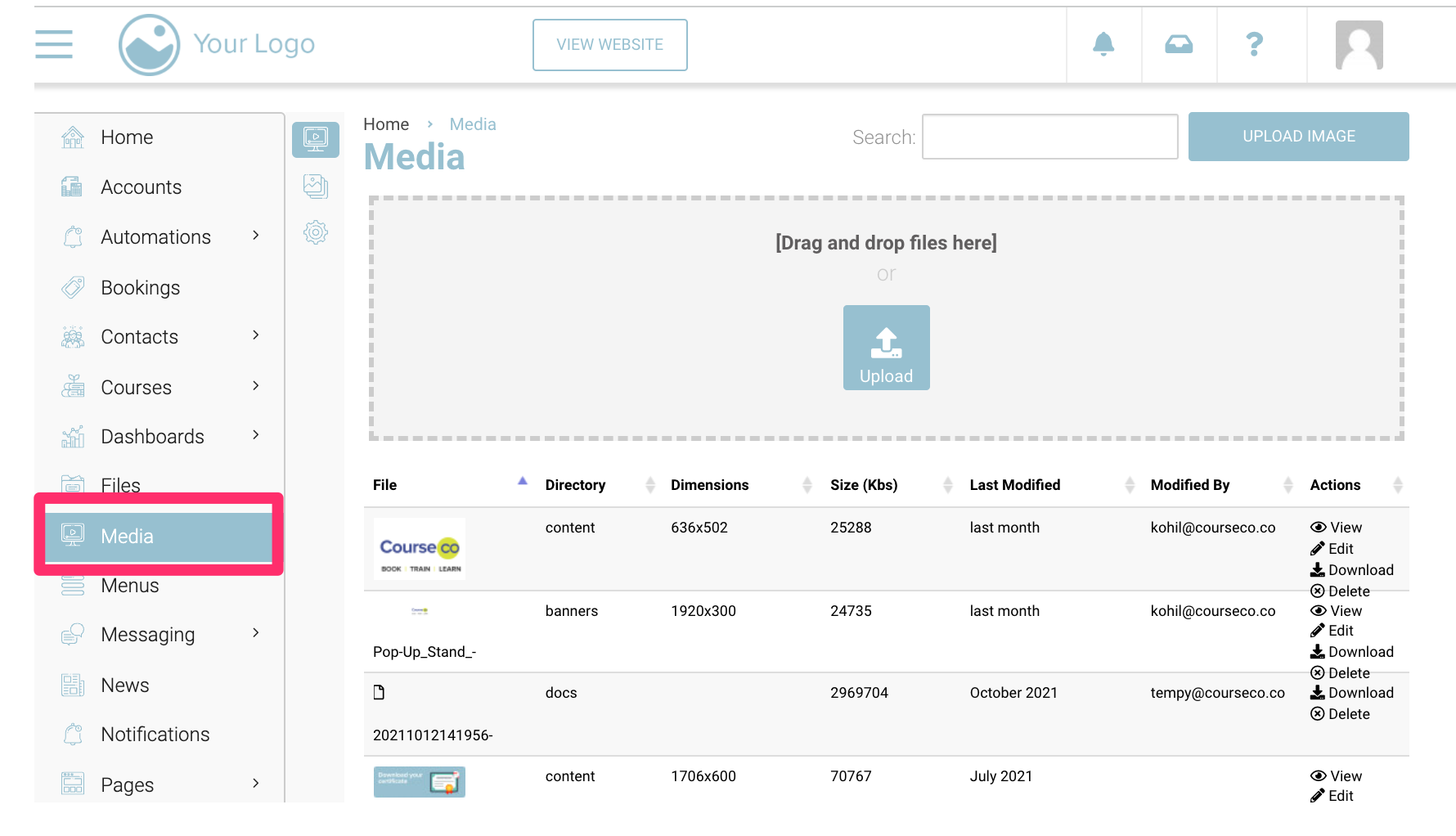 Click on 'Upload' sign shown on the screen to upload your image

From your computer library, select the image to upload on 'Media' Plugin

Leave the preset as 'None' for your image to be used for E-learning
Note: You can bulk import images in the 'Media' folder by dragging selected images and dropping them onto the media upload screen. (in the image above see "Drag and Drop files here")
Outcome:
The image will be uploaded on the 'Media' plugin with Content image preset
Adding the image to 'Content' tab
In the left menu, click on Courses

Select and open the schedule where you want to upload this picture

Click on 'Content' tab

Add your topic and sub-topic for the E-learning material

Click on 'Add content' button to add the image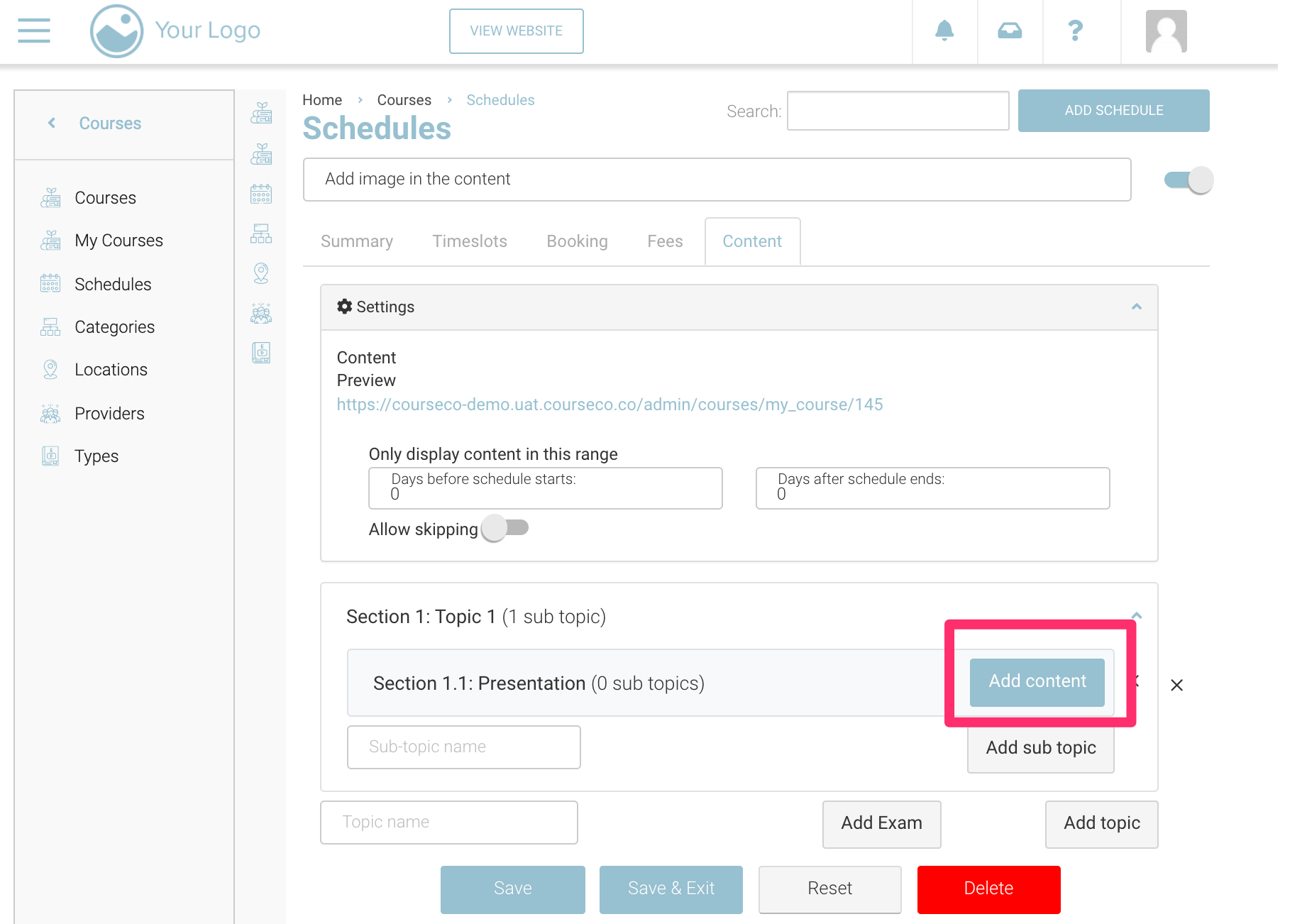 In the editor, click on the 'Gallery' icon as shown in the image below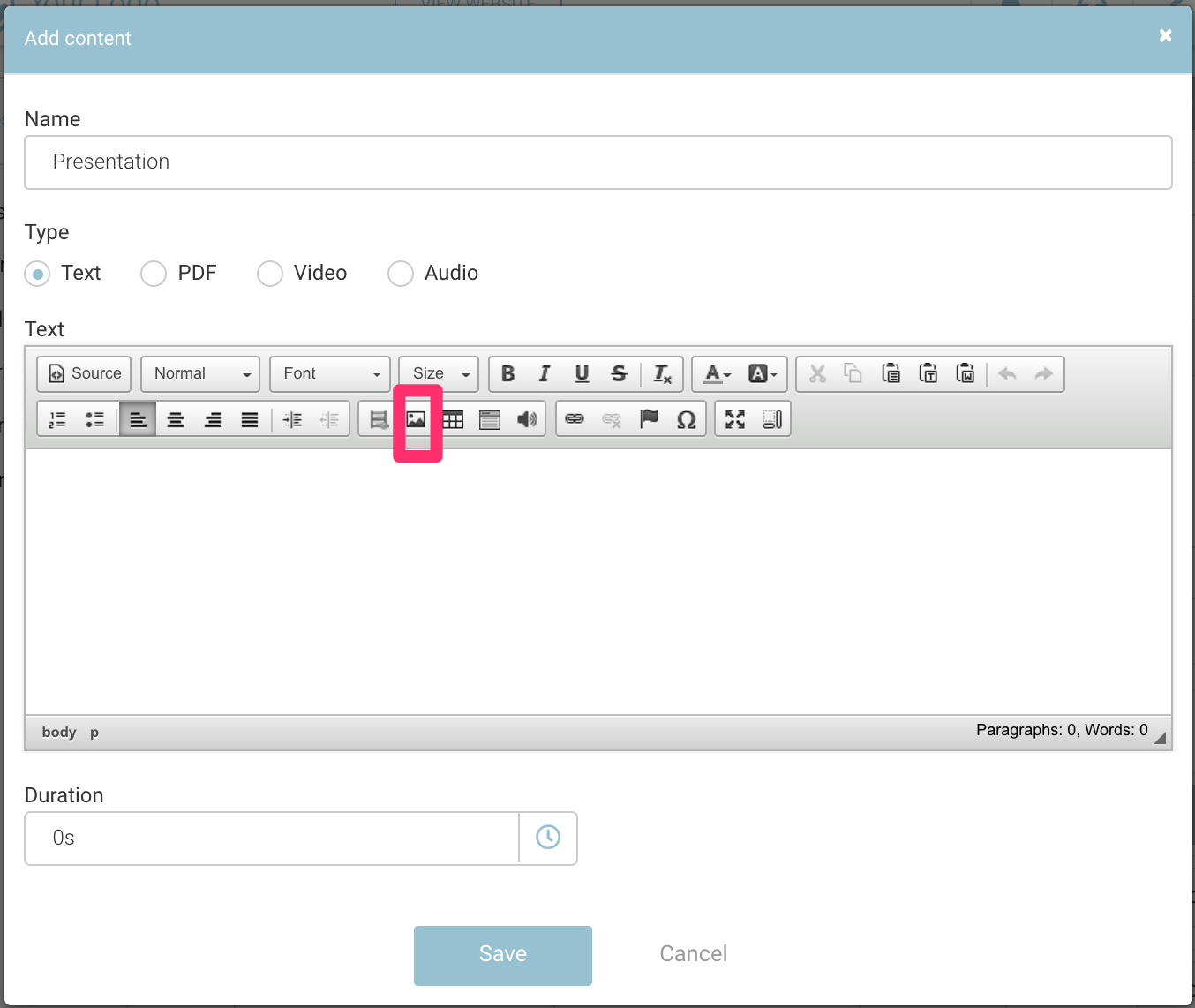 A dialog box with option to add image will appear.

Click on 'Browse Server' to browse images added 'Media' Plugin earlier as shown below
Select the image you want to add. A sample is shown below.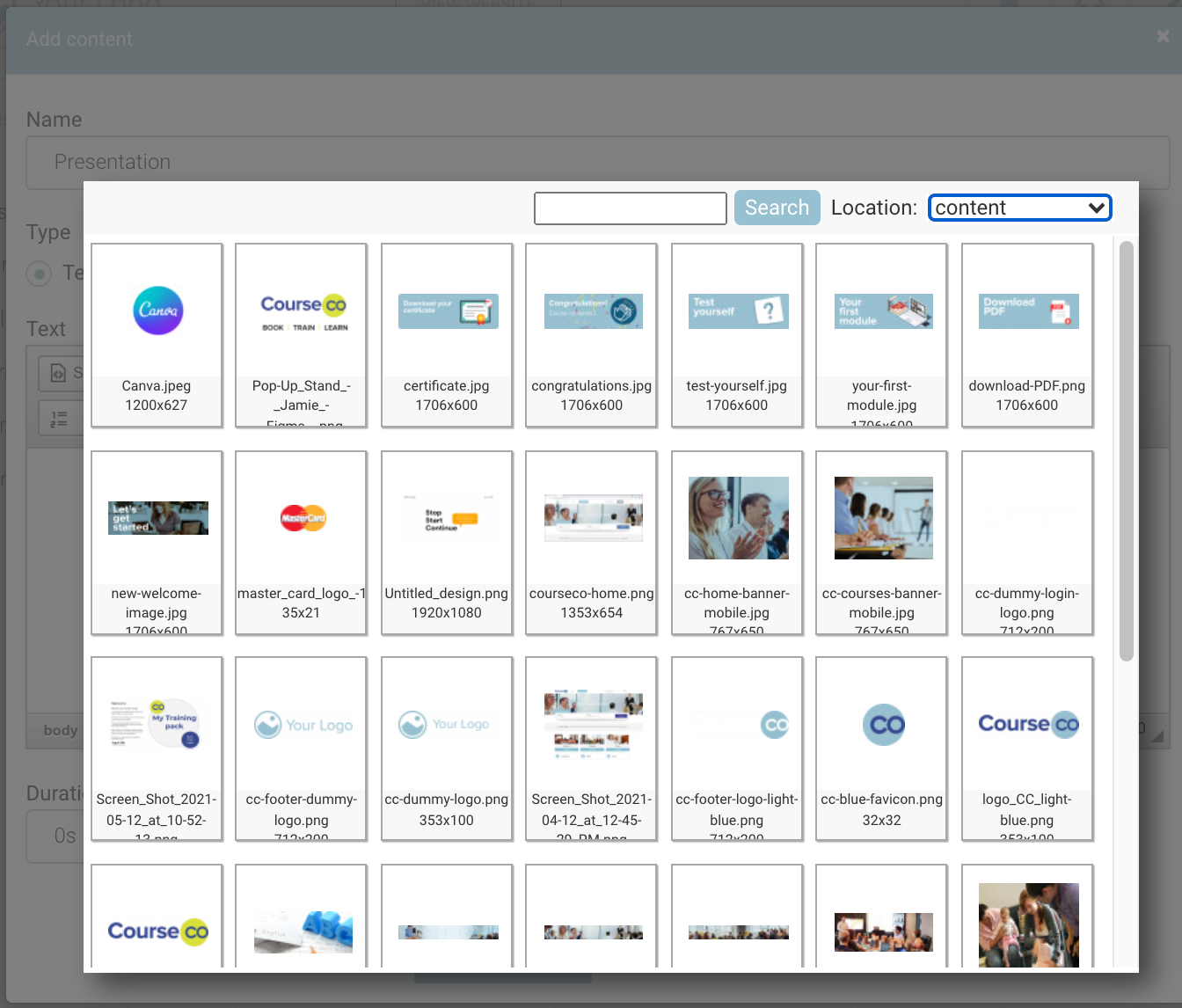 Change the setting of your image by changing the height and width as you want it to appear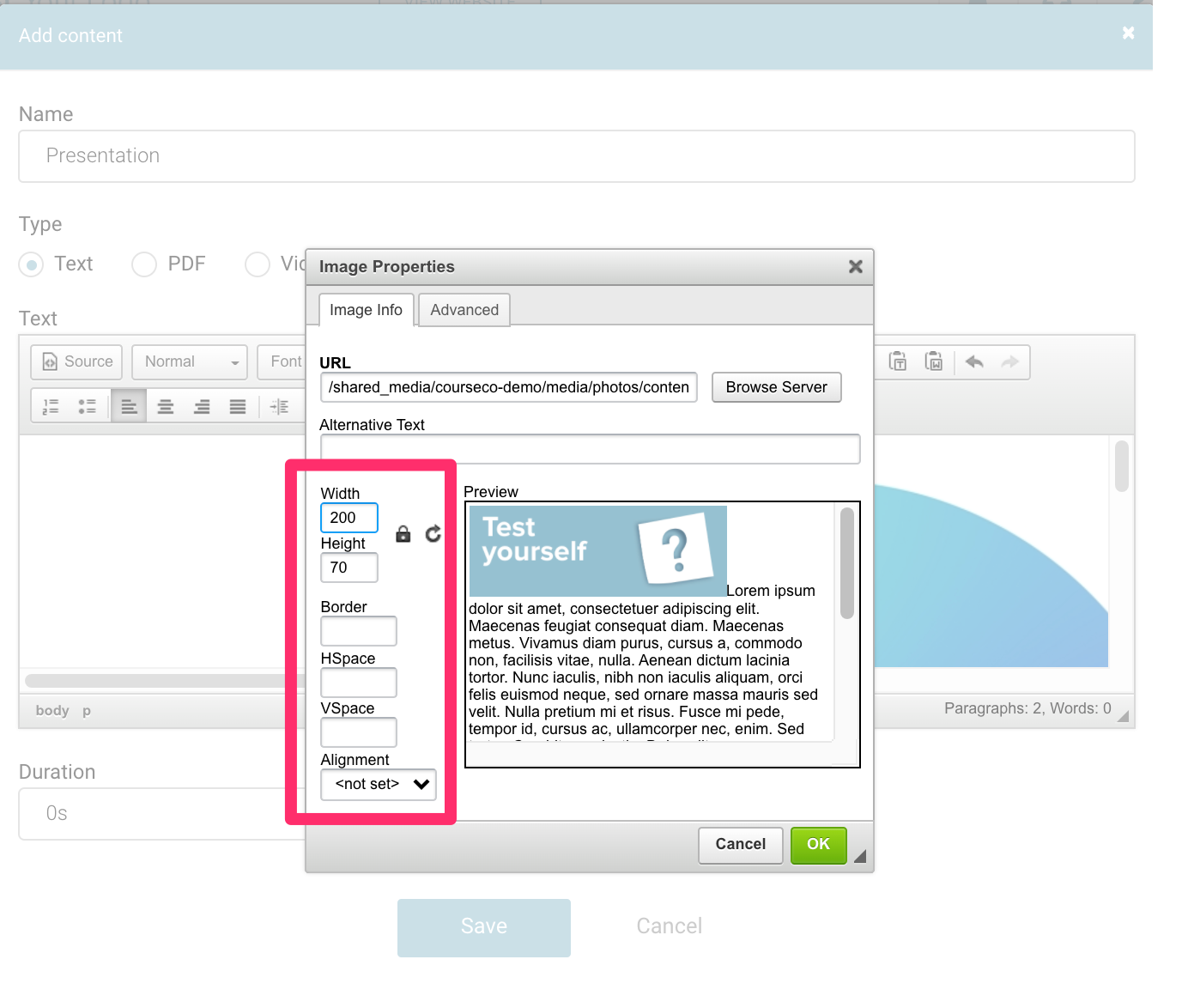 Click ok

Click Save on 'Add content' box

Click Save on Schedule
You can preview this slide by clicking on the 'Preview Link' available in Schedule> Content tab
Repeat this step for as many images that you wish to add for E-learning
Outcome:
The image will be uploaded successfully in content tab

Students can access this content when booked on a course