Adding Contact as an Admin
Creating an Organisation contact
Go to the website

Log in as an admin

In profile picture dropdown, select 'My account'

In left menu, select 'Contacts'

In contacts, click New contact

Select contact type as Organisation from dropdown

In contact details, input name, billing address and contact information of the organisation

Click Save to save the organisation contact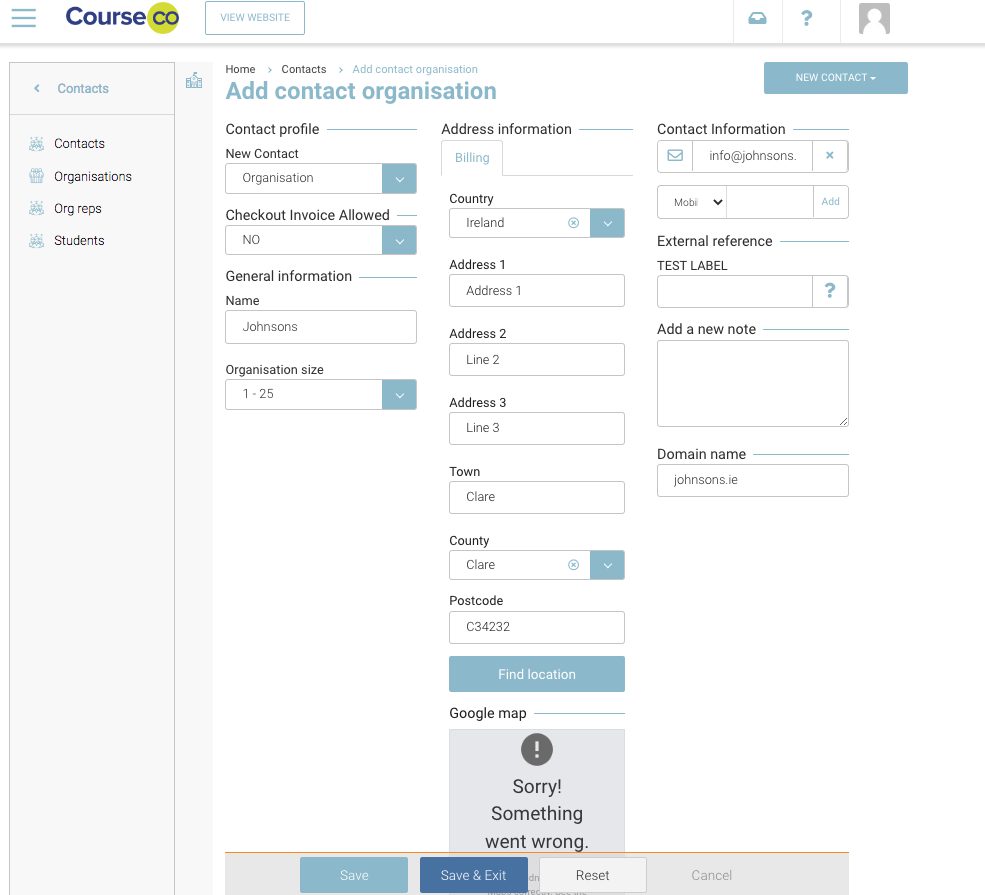 Creating an Org Rep contact
Go to the website

Log in as an admin

In profile picture dropdown, select 'My account'

In left menu, select 'Contacts'

In contacts, click New contact

Select contact type as Org rep from dropdown

In contact details, input First name, last name, email address

In organisation input, search and select the organisation from dropdown

Click Save to save the org rep contact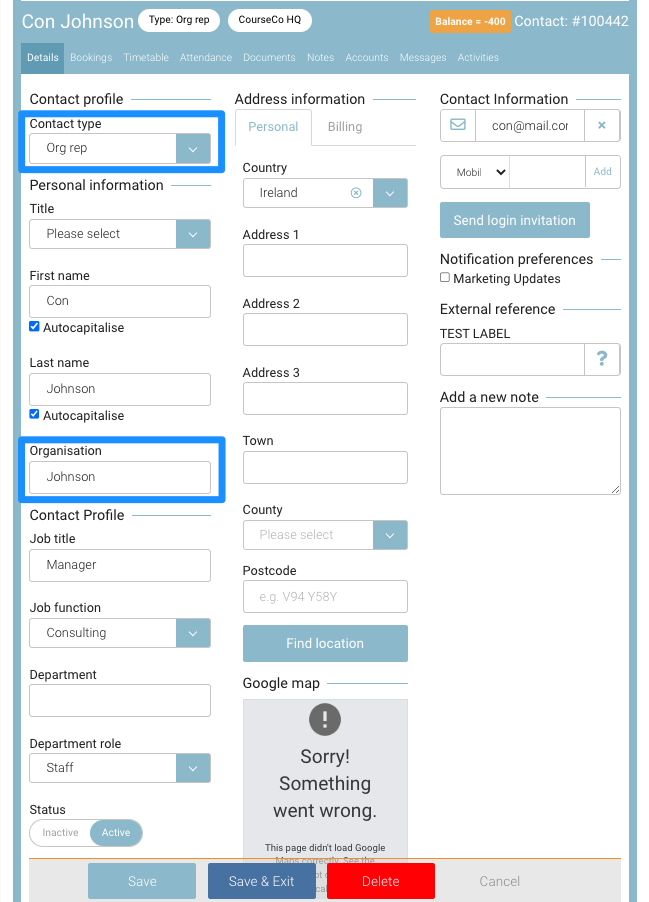 Creating a Student contact
Go to the website

Log in as an admin

In profile picture dropdown, select 'My account'

In left menu, select 'Contacts'

In contacts, click New contact

Select contact type as Student from dropdown

In contact details, input First name, last name, email address

Click Save to save the contact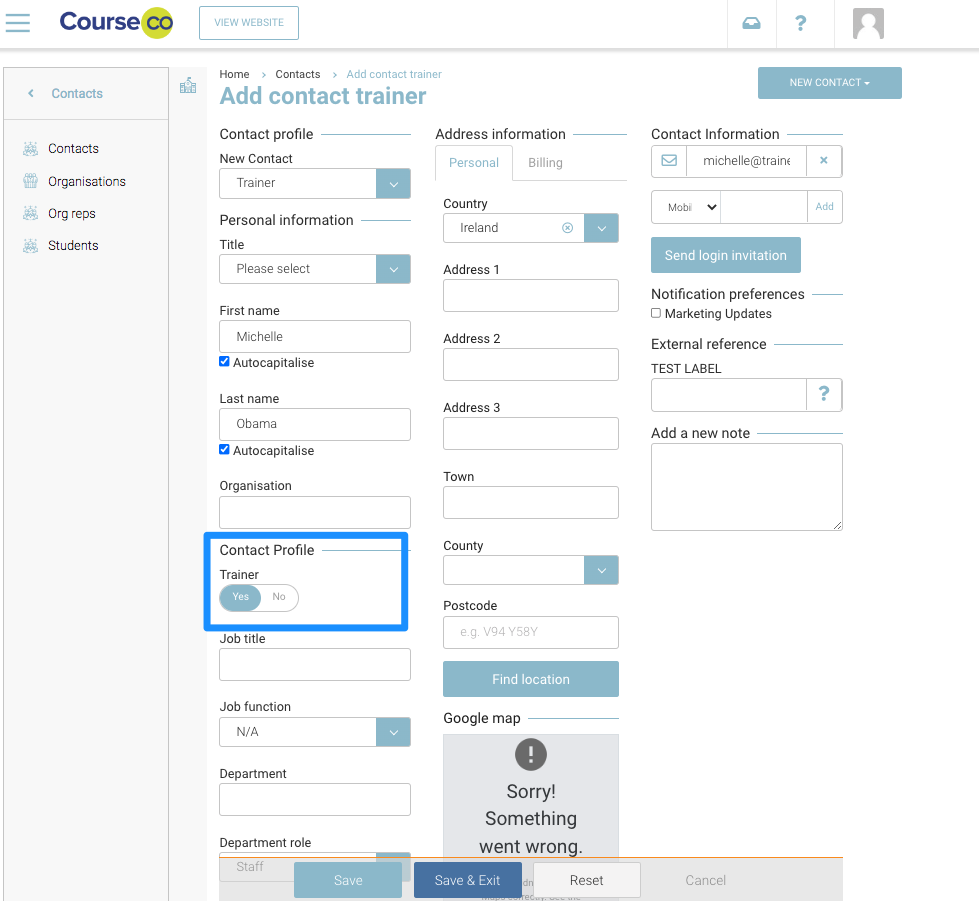 Creating a Trainer contact
Go to the website

Log in as an admin

In profile picture dropdown, select 'My account'

In left menu, select 'Contacts'

In contacts, click New contact

Select contact type as Trainer from dropdown

In contact details, input First name, last name, email address

Turn ON 'Contact profile - Trainer' as YES

Click Save to save the contact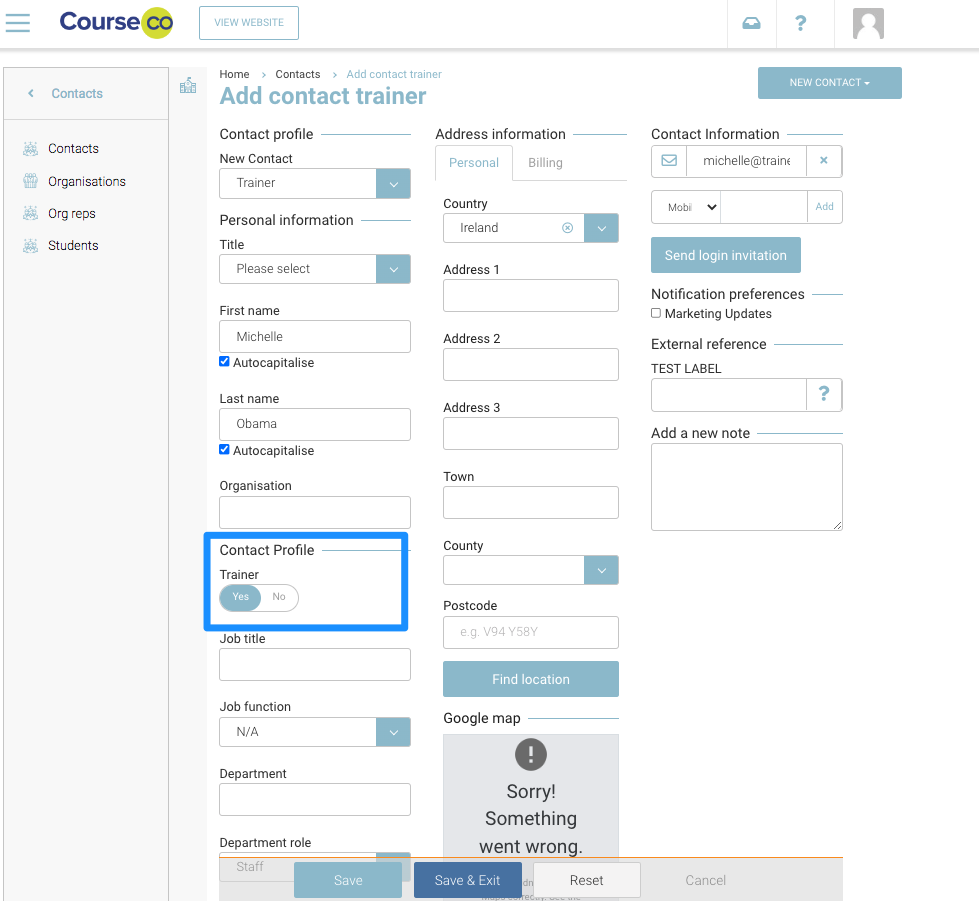 Editing/Deleting a Contact
You can edit the details of contacts such as profile details, personal information, address details, bookings, timetable, and so on.
On the Contacts page, click the contact that you want to edit/delete.

All the details of the contact will be rendered editable.

Edit the values of required fields and click Save. The contact details will be updated.

To delete the contact, click Delete. A confirmation dialog will be displayed.

Click Delete to delete the contact
You can not delete a contact who has active bookings. To delete such contacts, cancel the contact from the booking and then delete the contact.

You can not delete a contact that has been invited to log in to the system and is pending email verification.