Accessing reports as an admin
To access your Reports feature, follow the steps below:
The Home page will be displayed.
Click your profile picture on the top right and then click My Account.
The Home Dashboard will be displayed.
The Reports page showing the report categories will be displayed.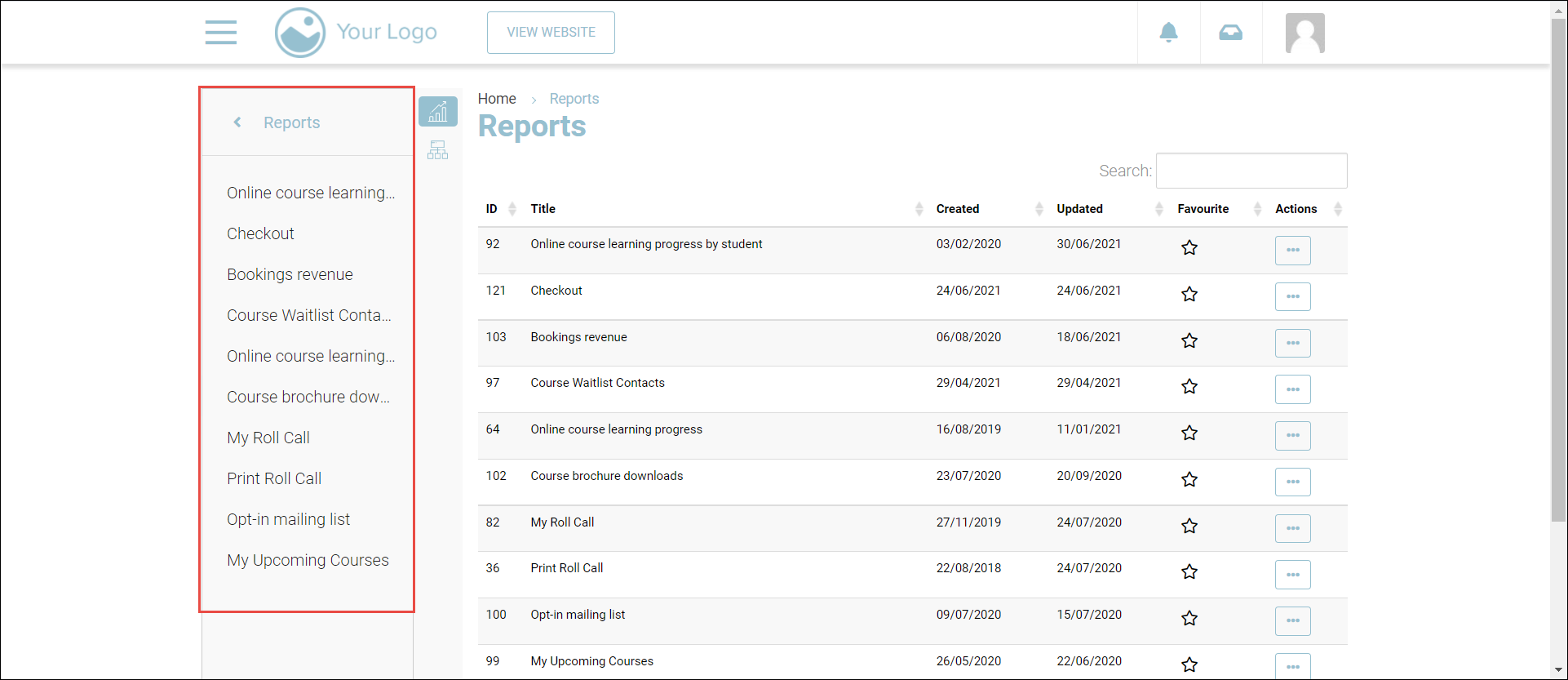 Popular Reports
We have lots of reports at CourseCo some would have been developed by us and others custom developed by you! Listed below is a table of reports and some key benefits.
Report Name

Description

Benefits

Upcoming Bookings

View upcoming schedules and their timeslots

View upcoming schedules in a date range

Identify errors with missing trainer or locations

View booked amount and revenue

View timeslot order i.e. 1/2

Download as csv

Cancelled Schedules

View schedules cancelled

view schedules that were cancelled in a date range

Download as csv

Roll Call Attendance

Update schedule attendance

Run report to view attendees on a schedule

Update attendance records per schedule

Add a note per attendee

Download as csv

Course Renewal Date

View previous bookings due for renewal

Run report to view the past bookings due for renewal

renewal is based on the expiry applied to on the original schedule

Download as csv

Online course learning progress

View per student online learning procress

View student progress for online course

view per student, last time content was viewed

View progress i.e. 5/55 (slides)

Filter by student, organisation, course or schedule

Download as csv

Students with Completed Exams

View students who completed exams

View students who completed a exam in a date range

Filter by exam

View when the exam was started and finished

view mark received

Download as csv

Duplicate Contacts Report

View duplicate contacts on the system

View all duplicates on the system

contact Support to merge these

All Contacts Report

View all contacts

View all contacts

Download as csv

All Bookings

View all bookings

View All bookings in a date range

Booking Revenue

View recent booking and income

View bookings made in a date range

In list screen view the

Payment type

Income

booking date

Deferred Revenue

View revenue based on the schedule start date

View revenue received based on the schedule start date i.e. when the revenue is 'seen' on your accounts.

Recent Payments

View payments made via Credit Card on the checkout

View recent credit card payments completed on the checkout

Status column will highlight any errors the client may receive eg 3DSecure errors / insufficiant funds errors.

Cancelled Bookings

View cancelled bookings

Analyse cancelled bookings in a specific date range

Booking Outstanding

run the report to view outstanding payments

refine by a specific amount

Course Brochure Download

View contact who downloaded your brochure and when

Opt-in Mailing List

View contact who added their name to your newsletter

This was done via the footer or on the checkout

Course Waitlist Contacts

View contacts who added their name to the waitlist

When they added their name

What schedule they added their name to