How to Raise a Support Ticket
CourseCo has an online Knowledge Base, our online resource hub that holds all there is to know and navigate around CourseCo! Our Knowledge Base is managed by our Product team who regularly update the directory with latest features and step by step instructions.
If you find yourself stuck, you are always welcome to Raise a Support ticket through our Support Box. All tickets are automatically logged to your CourseCo account to allow for transparency, tracking, and ease of communication.
See steps to Raise a Support ticket below,
Select "Submit a support issue"
The CourseCo Support Desk page will be displayed.
Enter your Contact Details and a summary of the issue you are facing

Enter you name or email in 'Raise this request on behalf of' input

Enter a summary which must include correct description of your query / issue with appropriate examples.

Attach any images, screenshot, links and files that will help our support team investigate and solve your query as soon as possible

Add a description explaining in crisp details the query with examples and steps that you performed

Choose a Priority Level from the dropdown

Click Send
Include the URL you are using (ie: copy and paste the link in the website finder)

Describe in a short sentence your problem - if multiple please number them

Please include ID's (ex. schedule id, booking id, contact id)

Please include screenshots where possible

Can our user guides help with this? See here.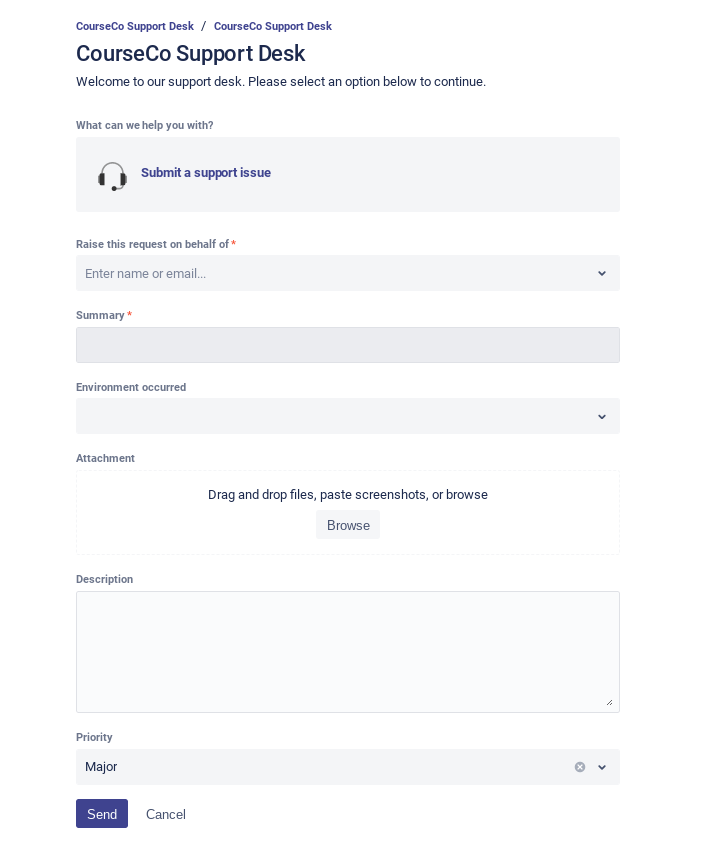 Please see a sample support ticket example for your reference when you log a support call with us.